Christopher's latest composition, Attack Four for four modified Logitech joysticks will be performed Tuesday, November 13, 2012 at 8:00pm in Studio 401 at The Boston Conservatory.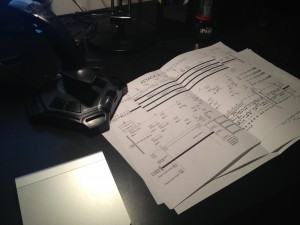 Attack Four is a quartet for modified Logitech Attack 3 gaming joysticks. Designed as a new electronic musical instrument, the joysticks allow the performer to directly access many dimensions of sound, with a high degree of nuance.  The software and concept were developed by electronics engineer and percussionist, Levy Lorenzo.
Writing for a new instrument was not an easy task. I had to discover the sounds and capabilities that the instrument was able to achieve and create a notational system that conveyed the intent in an accurate and precise way. With that said, the piece explores the notion of four performers learning a new instrument from scratch and juxtaposes unison sections with moments of dissension and chaos.  The score is a combination of traditional, spatial, and graphic notation.
There are a total of eleven buttons that are programmed with various samples, including bass drum, snare drum, bell, sine and sawtooth wave to name a few.  The joystick x-axis controls pitch and frequency while the y-axis adjusts volume.  In addition, there are two loops able to record two seconds that the player can utilize independent of one another.